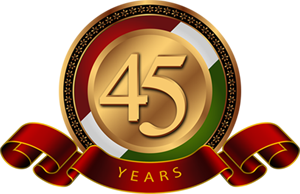 D'Aquino Imports celebrates 45 years of bringing a taste of Italy to America
Success comes from hard work and a sense of destiny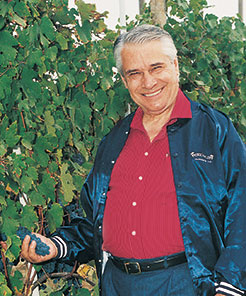 ard work, a sense of destiny and a little luck brought Gaetano D'Aquino to Los Angeles in 1967. Today, D'Aquino ltalian Importing Company, based in Duarte, California, boasts one of the finest lines of imported wine, olive oil and food products from Italy. But this success certainly did not come easy.
Born in 1940 in Siracusa Sicily when World War II was raging in Europe, D'Aquino's parents sent the young boy to the country to stay with his grandparents for reasons of safety and security. When his parents joined him in the country four years later, they decided to start a small business selling fruit, vegetables and grocery items.
During his adolescence, D'Aquino held many jobs including construction and working in stone quarries. At age eighteen, the youth took a step that possibly changed his life forever, he migrated to Switzerland with the help of a friend who was able to provide work for him. Through hard work and a keen mind, he became successful in the field of electronics earning promotions through the years. But by age 25, D'Aquino was ready for another adventure. And it was waiting for him across the Atlantic in America.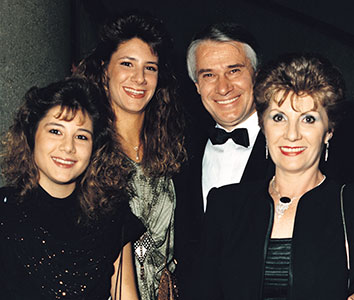 While visiting relatives in Miami, Florida, fate intervened and D'Aquino met his beloved wife Sylvia. The young couple settled in Florida for a time and became the proud parents of their first born, Patricia. But a new adventure loomed on the horizon... California. D'Aquino could not resist the temptation to travel to the state after reading numerous reports of opportunities in the field of electronics.
D'Aquino landed in Los Angeles in March of 1967 at just 27 years old. Not knowing where to turn, he proceeded to seek what was familiar and found an Italian restaurant where the Voices of kinsmen could be heard. The owner of Rigo's restaurant gave D'Aquino advice and listened in his time of need, and shortly he found work in Pasadena at an electronics store. Soon after, he sent for his wife and baby daughter and the family settled in Sierra Madre, just east of Pasadena.
In 1970, the D'Aquino's had the fortunate opportunity to take over ownership of a small Italian food store in Hollywood. This became their first experience with the food industry working hard day and night allowed the couple to also open a bakery in Glendale. After three years the family (which now included daughter Sonia) returned to Italy.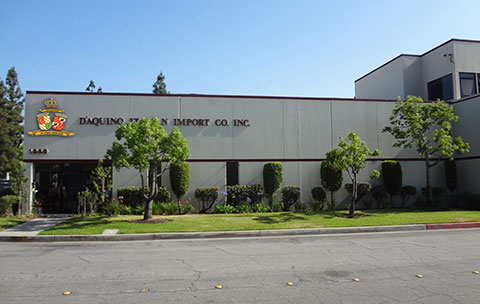 After returning to California in 1977, D'Aquino tried his hand at selling imported food products from Italy after being in touch with food and wine producing companies from his homeland. The commercial aspects of this venture were taking shape in his mind and later that year, the D'Aquino Importing company was born.
In the 1980's, daughters Patricia and Sonia joined the family business to assist in its growth. The company began to import several products including wine, pasta and olive oil bearing the D'Aquino label. Over time, D'Aquino was able to educate the American consumer and they came to believe in his products, subsequently, many renowned American distributors began to buy large quantities from the new importing company.
The company began to purchase wines from Paterno Imports of Chicago for distribution in the local California market. These included Gancia, Barolo dell'Annunziata, Corvo Pinot Grigio Mirafiore, Chianti of the Vignale vineyards and more.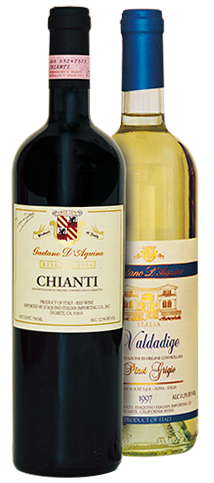 Although D'Aquino's olive oil and pasta already carried the company trademark, D'Aquino decided to include wines with the family label in order to help make fine wines available to all classes of consumers. They began with wines from the Veneto Region: Soave Classico, Bardolino Classico, and Valpolicella Classico. The Italian producers would bottle the wine for the company directly in Italy. It was then D'Aquino's job to convince people that the wines with his trademark were the same as those with more widely known labels. In the beginning, the Trader Joes chain was the largest buyer for D'Aquino's products and in time, the larger chains of Ralphs, Vons, Albertsons, Safeway, Stater Brothers, Trader ]oe's, Bristol Farms and others also became customers. Today, this list includes Royal Caribbean Cruise Lines, TWA Airlines, Marriott Hotels and the US. Navy, Army and Air Force.
D'Aquino wines are distributed in 22 states, Mexico and Canada. In the past few years, the company has dedicated itself more and more to the importing of specialty bottles. Among these are unique glass sculptors hand-crafted in Italy. These artistic bottles are filled with wine from the Tuscany and Veneto regions of Italy. With some of these products D'Aquino has been able to gain national distribution in large wholesale club chains such as Sam's Club and Costco.
Due to the large volume of purchases that are made every month, D'Aquino Imports has the opportunity to offer their customers and most importantly, the consumer, some of the best values in the world of Italian wines.